Rail Live 2018 | 20 – 21 June 2018
Eurofins York is exhibiting at Rail Live 2018, the UK's largest and most comprehensive outdoor rail event, where we will be presenting our range of products and services to the rail industry.
Visit Eurofins York (formerly York EMC Services) at Rail Live 2018
Eurofins York is the established market leader for the provision of Electromagnetic Compatibility (EMC) services to the railway industry, offering consultancy, advice, support, testing and training. We have many year experience and expertise alongside a solid track record of demonstrating EMC for major rail projects both in the UK and further afield.
Visit us on stand W124 and talk to us about how we can help you manage your EMC.
Our Expertise
Our in-depth knowledge and experience enables us to provide a wide range of services to demonstrate EMC and compliance for both fixed installations and apparatus:
EMC project management; EMC strategy documents, EMC management and control plans, whole project EMC guidance
EM hazard identification; desk based studies and on-site inspection
EMC design reviews including cabling, layouts and zoning
EMC technical documentation preparation including compliance reports and checklists
Lineside induction and EM fields
Computational modelling
Bespoke measurmenet
EMC/EMF site surveys
On site EMC testing
Research and development
Eurofins York is a member of the Rail Alliance and the Rail Industry Association.
Click here for more information about the services we offer to the rail industry.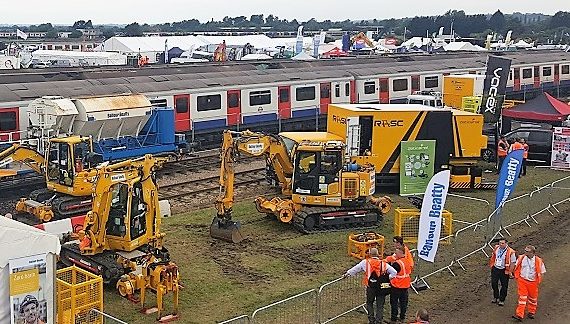 Visit Eurofins York on stand W124 and discover how we can help you with your EMC across all aspects of the rail industry.
Rail Live 2018 – The UK's largest outdoor rail event
Rail Live is the annual event that brings the entire industry together to showcase UK rail expertise.
Now organised by RAIL magazine in partnership with Rail Alliance, Rail Live 2018 will be the largest, most comprehensive outdoor event for rail in the UK. It's undergoing a transformation for 2018 with many exciting new developments.
Rail Live 2018 builds on the highly successful plant show staged every year at Long Marston since 2012, and this plant display remains at the core of this enhanced event.
Rail Live 2018 features include:
Live demonstrations from across the industry of the latest equipment, products and services from over 400 exhibitors and sponsors
The Signalling Zone for which Rail Live is famous
New rolling stock and locomotives on display
Track demonstrations covering all aspects of the rail industry including OLE,  OTM Air/Vacuum Excavators, track renewal and much more
An Export Show for the industry and its supply chain in partnership with the Department for International Trade
An Innovation Show in partnership with the UK Rail Research and Innovation Network (UKRRIN)
Off-track features including British Transport Police, Network Rail Air Operations, RAIB Drone Technology
The National Rail Convention is now being held at Rail Live 2018 over 2 days for the first time
AÂ 'Next Generation'Â project promoting the industry to undergraduate engineers and apprentices
A state-of-the-art structure for the exhibition