[Webinar] Deal or No Deal – Your EMC BREXIT Survival Guide
With the 29th March approaching fast, now's the time to find out how the current state of BREXIT could impact upon you and your business. Join us for our "Deal or No Deal - Your EMC BREXIT Survival Guide" webinar and make sure you're up to date.
Join Nick Wainwright, Managing Director of Eurofins E&E Product Testing UK, to talk about the current state of CE Marking and how a deal or no deal BREXIT will affect testing, certification and product marking.
Over the past few months, we've been asked many times how BREXIT will change the landscape for UK manufacturers and especially how a Deal or No Deal BREXIT will alter the testing and certification processes.
Nick has collated these questions and the appropriate answers into a comprehensive presentation that covers not only these topics but many more relating to BREXIT and product certification and marking.
For anyone who attended the recent Rohde & Schwarz Demystifying EMC event, this presentation has been updated to include the UKCA mark as well as a "What to do now" section that gives advice, information and guidance that you will be able to take away and implement straight away.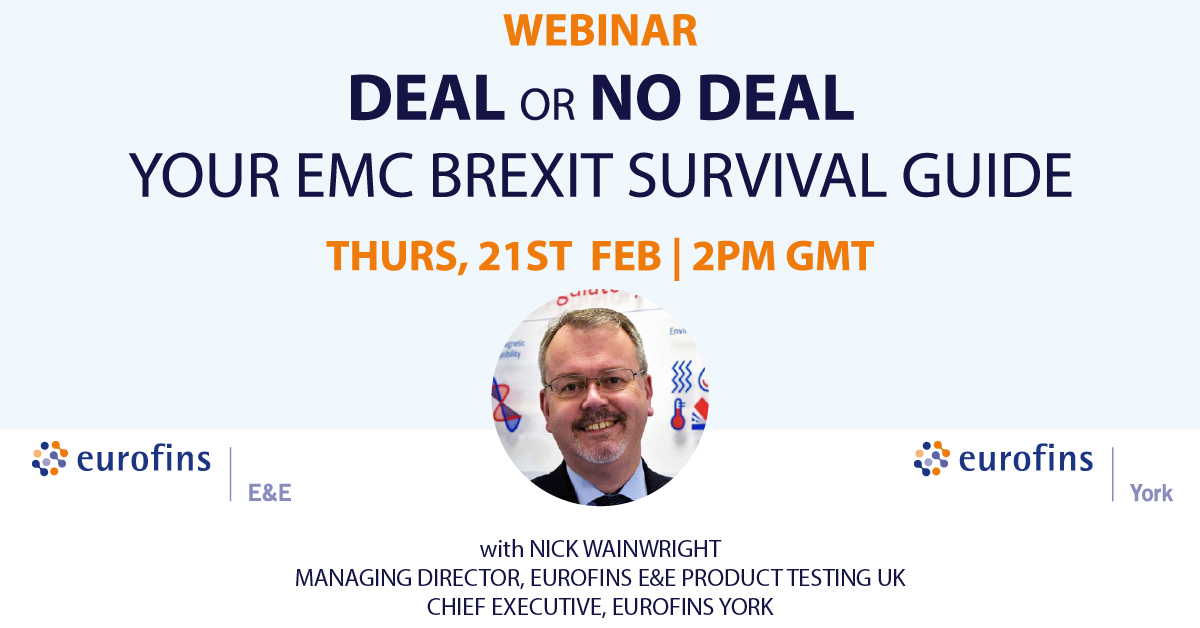 Once you've registered, you'll get a confirmation email from our webinar platform, ClickMeeting. If you don't get this confirmation in the next couple of hours, please check your spam or junk email folders and see if it's in there. If you don't get a confirmation email at all, please email marketingyork@eurofins.com and we can send you a new confirmation email.
You'll also get a reminder email the day before the webinar and 15 minutes before the scheduled start time so you can be sure that you don't miss out.

If you can't make it or can't find the time to watch the presentation live, register anyway and we'll send you a link so that you can watch when it's convenient for you.
We'll also be collating the Q&A session and we'll send you a link to view these afterwards.
If you have any questions that you'd like to ask beforehand, please let us know and we'll be pleased to help.
Send your questions to marketingyork@eurofins.com
We look forward to seeing you for the webinar.