Demystifying EMC 2019
Join us at Rohde & Schwarz's Demystifying EMC 2019, one of the industry's primary training events for Electromagnetic Compatibility.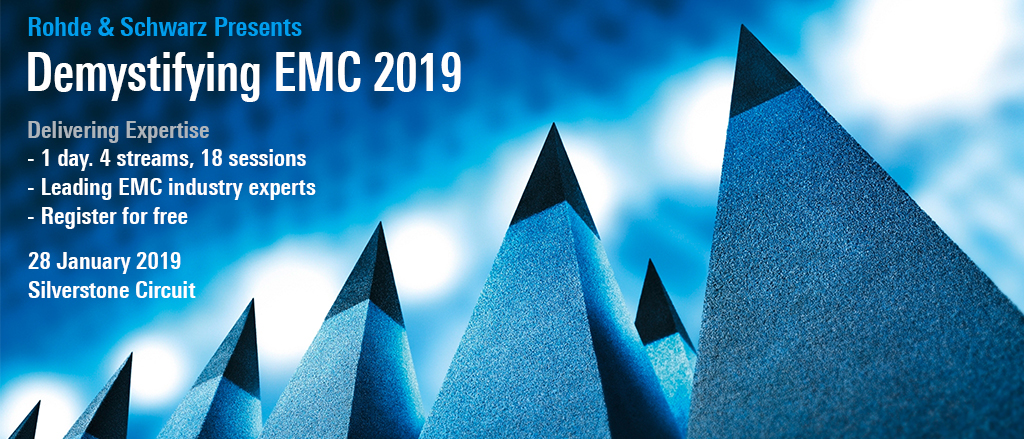 Now in its 5th year, Demystifying EMC has established itself as one of the industry's principal EMC events in the UK.
Hosted by Rohde & Schwarz and backed by the Institute of Engineering and Technology (IET), the event features specialist Training Partners and industry partners alongside Rohde & Schwarz own experts.
Nick Wainwright, CEO of Eurofins York, is presenting "Deal or No Deal? Your EMC BREXIT Survival Guide" with Dan White and Neil Constance from Eurofins Hursley presenting "EMC Compliance of Fixed Installations".
Hosted at the conveniently located Silverstone Circuit, benefits of attending this unique event include:
Updates on regulations and standards
Understanding good practice in circuit design
Practical demonstrations
The opportunity to collect some valuable CPD points courtesy of the IET
If you have an EMC challenge, want to improve your knowledge or are venturing into the topic for the first time, this event is for you.
Join us at the accompanying exhibition alongside our colleagues from Eurofins Hursley and Eurofins ETC on Monday 28 January 2019 at The Silverstone Wing, Silverstone Circuit, Northamptonshire.
The full programme and how to register is available here.