Demystifying EMC 2018
Join us at Rohde Schwarz's Demystifying EMC training and networking event on Monday, 22 January 2018.
Following the last 3 years of successful seminars, "Demystifying EMC" has established itself as one of the industry's principal EMC events in the UK. For the 2018 event, Rohde Schwarz will host an agenda comprised of established leaders and new industry experts, complimented by their training partners.
Hosted at Silverstone Race Track, this free event is about delivering high quality training to industry and has leaders in the field of EMC that share this concept. As with previous events, the programme allows for networking with peers and to speak with industry experts.
Eurofins York's CEO Nick Wainwright is presenting "I'm Responsible for EMC…. Get Me Out Of Here!" in Hall 4, 9:50am.
Other themes at this event include; updates on regulations and standards, basics of circuit design and practical demonstrations. You can pick the sessions that you want to attend out of a total of 16 different topics. The full programme is available here.
Attendance can also count towards your Continuing Professional Development (CPD) record with professional bodies such as the IET.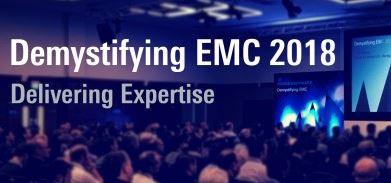 If you have an EMC challenge, want to brush up on your knowledge or are venturing into the topic for the first time, this event is for you.
For more information and how to register please click here.
We hope to see you there for this excellent and informative event.