University of York Prize Giving 2017
As a subsidiary of the University of York prior to the acquisition by Eurofins in July 2017, we have maintained links with the Department of Electronics. It is a tradition for us to award prizes to newly graduated students each July who have demonstrated excellence in their field of study.
York EMC Services' Group Services Manager Chris Clegg presented this year's prizes at the award ceremony on Wednesday 12th July
 James Garner won the York EMC Services Prize for the Best Performance at Foundation Year
The York EMC Services Prize for the Best Project Work in Radio Frequency Engineering was split between Matthew Gould and his project entitled Vital Signs Detection by Microwaves and Mariusz Jurczyk for his project on Ultra Low Phase Noise RF and Microwave Oscillators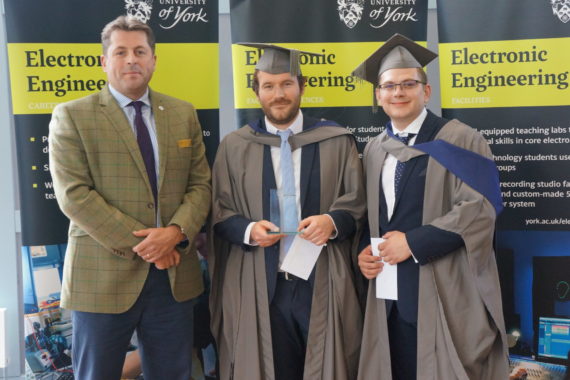 Congratulations to the prize winners and all of the students in the Department of Electronics who successfully completed their degrees this summer.