York EMC Services Announces New Website
York EMC Services is delighted to announce the launch of their new website showcasing their range of Services and Products for Global Compliance and CE Marking Solutions.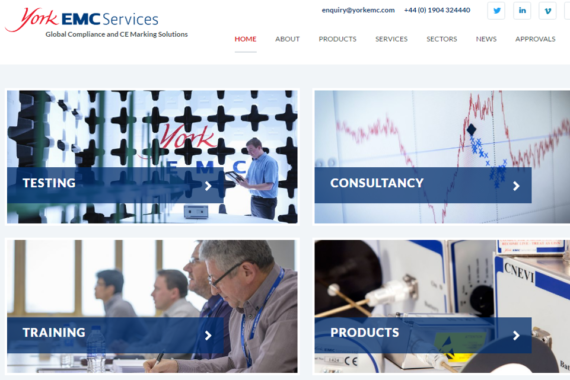 York EMC Services new website provides an easy to search and view platform for regulatory compliance help, advice and resources; particularly in the field of Electromagnetic Compatibility (EMC), Electrical Safety, Electromagnetic Fields (EMF) and Radio.
York EMC Services (YES) new website went live in March 2017 featuring the latest in web-responsive design for an enhanced user experience on tablets and other mobile devices as well as standard computer screens.
Our new website is all under our dot com domain. The new image driven "tile" design makes it easier for our existing and new customers to browse our portfolio of Services (including Testing, Training, Consultancy and Research) and Products (Test Equipment). This is particularly applicable to our training and consultancy departments where our services transverse a broad range of specialities and industries; ranging for example from Rail EMC management plans right through to bespoke antenna research and design.
YES Marketing Manager Dr Katie Hodges says "We are delighted with our new website and the service provided by our web developers, Castlegate IT in York. Through using our new site we hope our customers are now more readily able to understand how we can help their businesses".
Other Features Include
Homepage with easy to view latest news and upcoming Training Courses
Deep footer with the ability to subscribe to our informative newsletters to keep up-to-date with the latest news
Find our white papers in the Downloads section under About Us
Find our locations or e-mail us easily under Contact Us