Medical Device Compliance Seminar from Eurofins MET Labs
Our colleagues at Eurofins MET Labs are running a seminar in October covering Active Medival Device Compliance.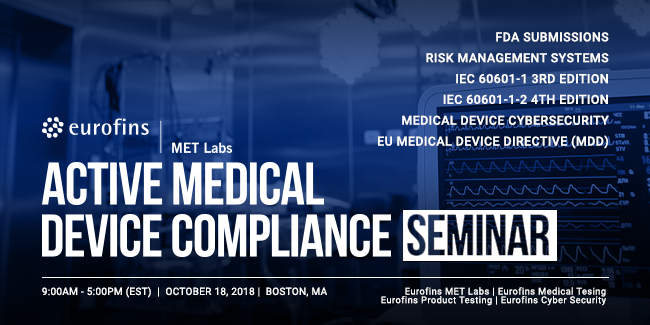 To be held in Boston, MA on the 18th October, this seminar covers a wide range of topics associated with compliance for medical devices that are to be placed into a number of worldwide markets including the US, Canada and the EU.
In this seminar, you'll learn the a-to-z of medical device testing from the Eurofins MET Labs team of industry experts, who boast over 100 years in combined medical device testing experience. They'll provide you with a comprehensive, in-depth explanation of the steps required to take a medical device to market and provide you with the technical knowledge to effectively navigate medical device requirements.
For more information, please visit the Eurofins MET Labs website here.